We provide the best care and support in the restoration, maintenance and enhancement of your oral hygiene and tooth health. We go above and beyond to use trusted technologies and a warm environment to help you feel good about your dental health forever.
Inlays & Onlays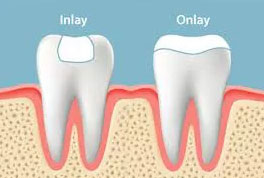 Sometimes teeth have damage that affects a wide area on top or slightly over the side of the tooth. They are recommended when teeth has mild to moderate tooth decay, or for cracked teeth where the damage does not warrant a dental crown. We use materials that provide the most stable and long-lasting result while preventing adjacent teeth from shifting or a gradual deterioration of the bite.
Inlays and onlays do not expand or contract based on temperature like metal fillings. They can last up to thirty years making them the best type of filling. We always use muscle testing to determine the most ideal material for your particular situation. Our inlays are usually made either of gold, composite resin or ceramics.
What to expect: Typically, two visits are required for the placements of inlays and onlays. In the first visit, lab technician will take an impression of your tooth, which will be sent to a lab to create the permanent inlay or onlay. Before you leave, Dr. Chopra will fit your tooth with a temporary inlay / onlay to keep the tooth protected between visits. During your second visit, the temporary protective material will be removed and your tooth will be cemented or bonded with the permanent inlay or onlay received from the lab.
Bridges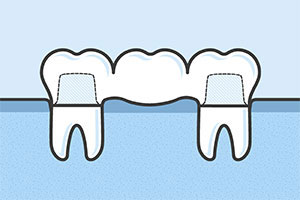 A bridge consists of a false tooth put in place of missing tooth or teeth. A gap between your teeth can be potentially dangerous to your dental health, as it can cause your teeth to shift resulting in a change in your bite that could be painful.
A bridge consists of two crowns that attach a false tooth to the teeth on either side of the missing tooth. But the bridges we are comfortable, well fitting, and natural looking, so no one will be able to distinguish them from your own teeth. Not only that, our bridges are fixed in place, meaning that you don't have to remove the replacement for cleaning. Patients say these bridges are so easy to wear, they often forget they are there!
What to expect: A minimum of two visits are required for placing a dental bridge. At the first visit, three important steps are completed. Firstly, the surrounding teeth are prepared to be fitted with a crown. This may including filing down the tooth so that the crown can fit over it. Secondly, an impression is taken of your teeth which will be sent to a laboratory to prepare the bridge and crown. Finally, the dentist fits your teeth with a temporary bridge to protect them while the bridge is prepared at the laboratory. At the second visit, the temporary bridge is removed and the new bridge received from the laboratory is fitted and adjusted. Multiple visits may be necessary to check and adjust the fit.
Root Canal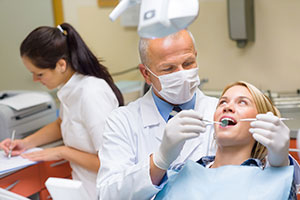 Root canal therapy is treatment used to repair and save a tooth that has been infected due to a deep cavity or cracked tooth. If the treatment is not performed, bacteria builds up at the root tip and the infection of the pulp can spread to the surrounding bone. The results in pain and swelling, and your tooth would likely have to be removed. By and large, people wince when they hear the term "root canal," but root canal therapy is a safe, effective, and low-pain option for saving teeth that would otherwise have to be extracted.
What to expect: The process consists of numbing the area around the affected tooth, removing the pulp (living tissue inside the tooth), nerves, bacteria, and any existing decay that is present. In order to restore the tooth to its full function, the resulting space is then filled with special medicated dental materials. When you return, the dentist will remove the temporary filling, re-clean the root canal and pulp chamber, and place a permanent filling and / or crown over the tooth. While some soreness may be present following the procedure, over-the-counter painkillers are typically enough to remedy the discomfort.
BruxZir - Solid Zirconia® Crowns

For years, traditional metal or conventional porcelain to metal dental crowns were the only choice available in replacing an irreparably damaged or injured tooth. These crowns functioned well, but couldn't be described as cosmetically appealing. When tooth colored restorations were initially made available, they looked terrific but weren't as reliable or strong as their metal counterparts. Now, with BruxZir® Crowns, dental patients no longer have to choose between having a reliable dental crown and having one that looks good. All-ceramic BruxZir® Crowns contain no metal, are cosmetically beautiful, and fit better than its metal predecessors. They are reliable and strong. Best of all, they have the same color and strength of your natural teeth. A few of the other benefits of BruxZir® Crowns include low risk of allergic reactions, zero metallic taste, unsurpassed strength and no metal margins.
With BruxZir® Crowns, you'll smile with confidence while feeling secure.
Partial & Dentures
We all hope for our natural teeth to last a lifetime. When that's not possible, dental professionals can offer a number of options to restore oral function and appearance. A wide variety of dentures is available for individuals who are missing some or all of their teeth. Complete dentures replace all of the teeth on the upper and/or lower jaw and rest on the gums that cover the jawbone. These dentures can be made more secure when attached to one or more tooth roots (over denture) or to dental implants (implant over denture). Some implant over dentures can be removed by the wearer and others can be removed only by a dental practitioner. Partial dentures replace only some of the teeth and attach to the remaining natural teeth with clasps or mechanical components known as attachments (precision and semi-precision partial dentures, also called attachment partial dentures.)
What to expect: Before getting dentures it is necessary to get the overall dental health to a good level. Next the number and location of missing teeth are spotted and the right type of denture is selected to replace those teeth. Then impressions or molds of the contour of the mouth are used as a model for the denture. Implant surgery for those receiving implant over dentures can also be done. Next it is very important to adjust to the dentures to achieve the best fit and level of comfort.
We provide assistance in helping you transition to dentures in the best way possible.
Dental Implants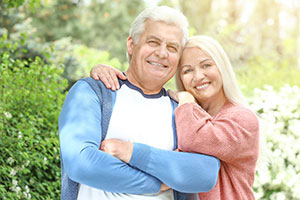 Dental implants are becoming an increasingly popular method for replacing missing teeth.Dental implants are not only used for individual tooth replacement, but can also be used when replacing multiple teeth as an alternative to dentures. Although a little more expensive, dental implants bring high value to your overall look and well-being. They are extremely natural looking as they involve a fusion of the implants into your jaw making them very stable and comfortable compared to traditional dentures. They also last a lifetime. If you have a healthy strong jawbone and healthy gums, you are likely a great candidate for tooth implants. ​
What to expect: During the procedure, a metal anchor is inserted into the jawbone. Small titanium posts are then attached directly to these metal anchors. The replacement teeth are then attached directly to the small posts. This process will usually take three to six months to complete but it will normally not interrupt your normal daily schedule in any major way. ​
At Norwalk Dental Care®, we know that many of our patients are concerned about the cost of dental implants. Please don't let that prevent you from considering this natural-looking, comfortable and permanent solution to damaged, diseased or missing teeth. Our friendly staff will be pleased to explain a wide range of affordable financial options to fit your budget.