Improving appearance of your mouth, teeth or smile while making it look natural takes an expert and we take pride in providing the best "smile makeover" in the area. Our goal is to enhance the natural beauty in your smile.
Invisalign Clear Braces
One of the attributes of a beautiful smile is straight teeth. If your teeth require straightening, but the thought of using traditional braces makes you uncomfortable and/or embarrassed, Invisalign Clear Braces are the perfect solution. Using a series of virtually invisible, comfortable-to-wear, and custom-made plastic aligners, your teeth will gradually shift into the position Dr. Chopra has prescribed. You'll change the aligners about every two weeks, causing your teeth to incrementally, almost effortlessly, move into the desired position, eventually giving you the smile you've always wanted.
Invisalign won't interfere with your day-to-day life, as the aligners are removable for eating, drinking, brushing, and flossing. In addition, Invisalign corrects many of the instances that braces are commonly used for cross bite, crowded teeth, overbite, spaced teeth and under bite.
For more information about how Invisalign can beautify your smile, feel free to contact us to set up a consultation or to answer any questions.
Veneers
Porcelain veneers are thin, tooth-shaped shells that are bonded on top of your biological teeth to hide flaws like chips and cracks. They're often made of porcelain, which shares a number of optical qualities with biological tooth enamel, giving these devices a remarkably lifelike appearance. A certain type of veneers, known as Lumineers, are so thin that they don't even require your biological teeth to be altered. They can be designed and placed on your teeth in a matter of weeks, so that you can improve your smile dramatically with minimal investment of your time.
Zoom!® Whitening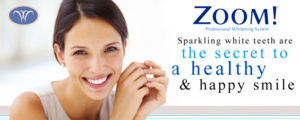 Want to get a whiter, brighter smile in a jiffy? Consider the Zoom! Teeth Whitening system, which uses a specialized laser to stimulate bleaching gel, allowing it to achieve the desired results in about an hour-long appointment at our office. This is an ideal treatment option for patients who want to whiten their teeth and find themselves in a time crunch, perhaps in preparation for a big event like a wedding or reunion.
KOR® Deep Bleaching

Some stains don't respond to traditional teeth whitening treatments, and in these cases, KOR deep bleaching can help you improve your smile. This innovative intervention, which is also provided in our office setting, helps your teeth to absorb oxygen, which helps the bleaching elements reach the depths of the tooth and release stains there.
Snap on Smile
Are you self-conscious about the condition of your teeth when you smile? Are you reluctant to consider treatments that might be expensive and time-consuming? Don't despair, because we have a fantastic solution for you! Snap-On Smile™ is made of thin, strong resin that fits right over your teeth. It's easy and more affordable than veneers or implants. It can cover stains, chips, gaps, and missing teeth. But best of all, it requires no drilling, so it's completely painless!
Six Month Smiles
"Six Month Smiles" adult braces can straighten your teeth rapidly and inexpensively! Many adults cover their mouths when they laugh, smile or talk because they are uncomfortable with the appearance of their crooked teeth. If you have crooked teeth, you might not want to wear metal braces for years or maybe you're concerned that other corrective procedures are too invasive or too expensive.
We offer an effective, safe and affordable cosmetic solution that fits your lifestyle. "Six Month Smiles" adult braces utilizes nearly invisible braces to gently straighten and align teeth in an average time of just six months. Unlike traditional metal braces, Six Month Smiles braces blend in colorlessly with your teeth, and use wires that are tooth-colored. As a result, they are virtually undetectable so you can get on with your life while your teeth are being straightened. And because they focus only on straightening the teeth that show when you smile, they work much faster than traditional braces.
For more information about how Six Month Smile can be a good option for you, feel free to contact us to set up a consultation.